ABOUT AOK ENGINEERING, PLLC
A multi-discipline engineering firm based in Upstate NY, servicing New York and surrounding areas.
Serving the Counties of: St Lawrence – Franklin – Lewis – Herkimer – Hamilton – Essex – Clinton – Warren – Saratoga – Fulton – Jefferson
Meet Karl, AOK Owner, Founder & Trusted Local Professional
Small Town Roots & Local Knowledge
Karl is a North Country engineer, husband, and father who grew up in Morristown, New York. He's an OFA and Clarkson alumni. Karl also served in the military. He also has 25 years of playing and coaching rugby under his belt. Karl is also an avid North Country outdoorsman who enjoys hunting, fishing, snowshoeing, and cross-country skiing.
Dedication, Skills, and Experience
Karl founded AOK Engineering, PLLC in 1992 and soley operated the company until 2001. Karl has a background in construction with extensive experience as both a project estimator and a project manager handling million dollar projects. His construction experience has given him a well-rounded perspective that allows him to apply a more thorough approach in the engineering field.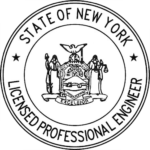 Our Experienced and Dedicated Team
Skilled and Knowledgeable with more than 35 years of engineering, construction, and consulting experience.
We take pride in being North Country professionals, and we're proud of the team we've put together over the years. Our crew is focused and dedicated with vast skill sets, experience, and expertise to handle projects sizes of all types.
We also have experience working with all types of clients and we treasure the relationships we create together.
Our North Country Network
We've got a highly experienced team of AOK engineers and consultants, and we've got an even bigger network of North Country professionals to help us make sure you get the very best results possible in every aspect of your project.
We've spent years working alongside our fellow Adirondack Park professionals and cultivating working relationships so that we can complete every job to the highest standards, no matter which components we handle or contract out. Whether you need a recommendation or a contractor that you can trust, we can help find the right fit for your project.
The AOK Mission
Our mission is to help make the North Country a better place to work and live. We have a long career in both the public sector and the private sector, which gives us a unique perspective for solving engineering challenges. Our experience and judgment have led us through many challenges and we wish to offer that experience to make your slice of the North Country all it can be.
Quality & Dedication
Here at AOK Engineering, PLLC, we have more than 35 years of engineering experience. We are experienced, dedicated, knowledgeable, and we are proud to call the North Country our home and professional environment.