AOK ENGINEERING, PLLC SERVICES
Residential, Municipal, Commercial, Industrial, Mechanical & Environmental
Serving the Counties of: St Lawrence – Franklin – Lewis – Herkimer – Hamilton – Essex – Clinton – Warren – Saratoga – Fulton – Jefferson
AOK IS HERE TO
HELP
ACHIEVE YOUR DREAMS
AOK Engineering, PLLC is a full-service Engineering company that can take you from Concept-to-Key  for projects big and small. We provide residential, municipal, commercial, environmental, and mechanical engineering solutions for new construction, expansions, and renovation projects. We also offer construction management services and engineering consulting. From finding the perfect plot of land for the energy-efficient home of your dreams to performing local, state, and federal wetland delineations and regulatory compliance interactions.
START-TO-FINISH & INDIVIDUAL SERVICES
New Parcel Investigation
Choose the right piece of land for your project.
New parcel investigation is one of the most important components for new construction, whether residential, municipal, commercial, or industrial. It's critical to select a piece of land can fulfill the intended aesthetic and functional requirements. We can help you assess your options and provide you with the insight you need to make a selection that aligns with your vision.
Site Planning & COMPLIANCE
Maximize your property layout and meet compliance requirements.
From driveways and parking to building locations, water supplies, and septic systems, we can ensure that you meet zoning and planning requirements. We provide full topographic surveys to assist with the completion of site planning and work with several local survey companies to provide the property metes and bounds as required base mapping for your site.
Sewer/Septic System Design
Get a cost effective design that meets all of the regulatory requirements.
Both residential and commercial septic systems are required by regulatory agencies to be designed by a design professional. AOK Engineering, PLLC has more than 23 years of experience in the design of septic systems. We'll perform the required percolation tests and provide a cost-effective design that meets all the regulatory requirements.
Environmental Permitting
Regulation & Compliance Experts
We can navigate any regulatory compliance standards, whether it be Local, Regional, State or Federal. We can assist with shoreline stabilization, dock and boathouse permitting, wetland permitting, and assistance with navigating permitting on new developmental properties.
Building Designs
Get a design that is innovative, compliant, and efficient.
As a multi-discipline engineering firm, we integrate all systems in the design to provide a cost effective and energy efficient structure. Our experience and expertise in mechanical, electrical, and plumbing, civil, and structural engineering allows us to provide you with the most effective method to meet your concept while focusing on construction and future operational costs.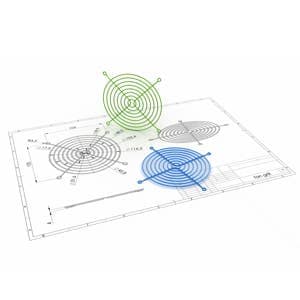 Blower Door Tests
Make sure you comply with New York State Energy Codes.
The New York State Energy Code makes it mandatory to conduct a blower door test for new buildings. Not only can we provide design services for compliant and energy efficient homes and facilities but we can also perform the actual test that is required by Codes.
A Dedicated Approach to Every Project
We've designed our project approach to be interactive, collaborative, and progressive, so that you can see your concept come to life and make real-time changes that can save you time and money in the long-run and improve your final product. Throughout the process, you'll have multiple opportunities to perfect your design to ensure that the final result represents your concept. Plus, you'll have the personal attention and expertise of the most senior members of our team to assist you throughout the entire process. As the design improves, we'll be in communication to make sure that changes are made at the appropriate time and everything runs smoothly and efficiently.
From Concept-to-Key  in 7 Phases
For every construction project we handle, whether its residential, municipal, commercial, or industrial, we aim to succeed with 7 key phases.
Concept – This is the start of the concept for your entire project. Here, we'll discuss your vision for your project, whether it's a napkin sketch and some dreamy ideas or a set of existing drawings. We can even help you find the right plot of land to ensure your vision can become a reality.
Preliminary Design – Here we'll take your concept and apply building code requirements and also provide suggestions to your concept from our extensive experience.
Intermediate Design – Here we'll incorporate new ideas and refine the design to best reflect your concept.
Final Design – Here the final structural design and building infrastructure gets completed.
Construction – While AOK Engineering, PLLC does not do the actual construction, we can recommend skilled and experienced contractors we trust to complete your work.
Construction Management/ Observation – Here we can provide construction management services to assist you with working with the Contractor through the construction phase. This service can be adjusted to meet your needs.
Keys – This is when all of the hard work pays off! We'll hand you the keys to your new facility or home.
Though Concept-to-Key  projects are our specialty, we do offer individual services for various phases of design and construction. Call Karl to discuss your needs, and we'll figure out how we can best assist you.